By Liza Pontone
Last month, I was absolutely delighted to find that the team at Active had nominated me for the first ever Tees Businesswomen of the Year awards. I was nominated for the Breaking the Mould award, and was genuinely surprised to find out that I'd been shortlisted in the final three, from 17 amazing candidates!.
It was humbling to be considered in the same category as Andrea Pearson from SABIC and Kelly Bailey from Venator. They're two fantastic examples of exceptional businesswomen in the region, and I'm honoured that the judges felt that I was in the same league.
The awards took place on Thursday evening at the stunning Wynyard Hall Hotel.  It was a wonderful night, and even though I didn't end up taking home the trophy, I was thrilled to even be there. I still can't quite believe it!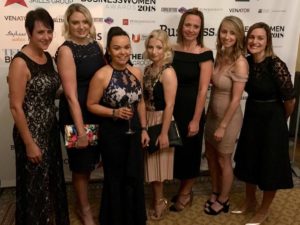 I know it's not quite the Oscars, but I have a few words prepared…
I'd like to say thank you to Tees Business, for taking the time to recognise the businesswomen in our region who are working every day to make a difference. The CEOs, the MDs, the entrepreneurs, the lawyers, and, dare I say it, the IFAs!
When people think of business people to recognise, they often think straight away of men, and as someone who works in an industry that is very male-dominated, it's easy to see why. It is, therefore, necessary to put the spotlight on women, as it reminds people that we're here too.
I'd also like to say a huge thank you to everyone here at Active whose support has been invaluable for me, particularly over the last couple of years as I studied to become a Chartered Fellow. You're an awesome team, and I love working with you all.
What a fantastic way to round off the year!
Click here to find out more about Liza Pontone