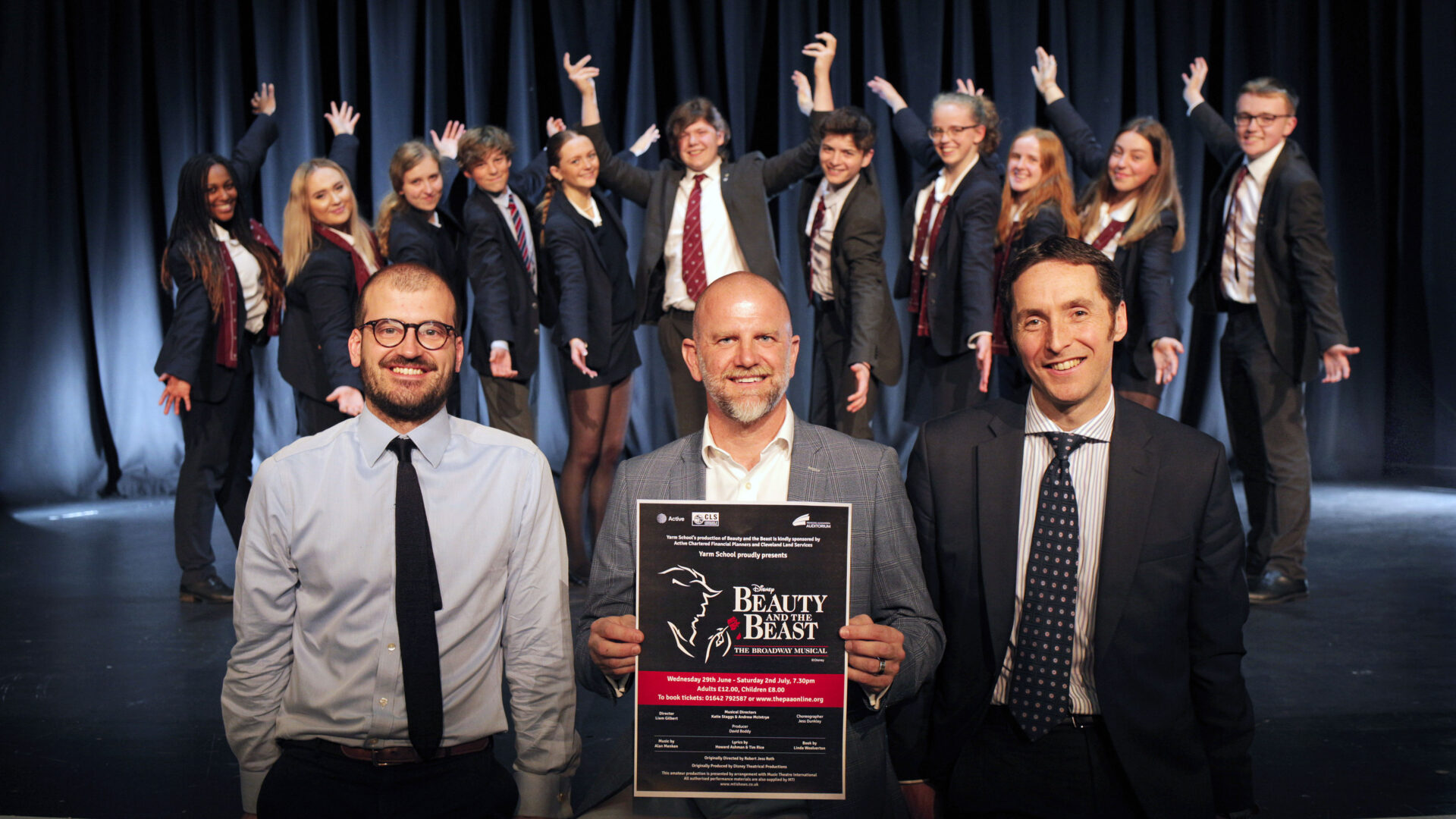 Yarm School students will be swapping hockey for harmonies and chemistry for choreography as they tread the boards in their latest musical production, Disney's Beauty and the Beast.
The show, based on the 1991 and 2017 films of the same title, will be sponsored by Active Chartered Financial Planners and is taking place in the Princess Alexandra Auditorium from 29 June 2022.
Yarm School's rising stars will channel their inner Emma Watson and Dan Stevens to bring the 'tale as old as time' to life, with classic numbers including Gaston, Something There, and Be Our Guest.
The 50-strong cast of talented youngsters, both performers and behind the scenes, will tell the story of provincial girl Belle, who learns to love a Beast, with the help of his enchanted servants.
Active Chartered Financial Planners has supported Yarm School for many years, including sponsoring productions in 2018 and 2020, and participating in the Yarm Student Apprentice competition. The team is also regularly involved with the school's careers guidance events and offers student mentoring and work placement opportunities.
The Teesside-based firm, which provides financial planning and advice to clients across the North East and Yorkshire, is continuing its long-standing relationship with the school by jointly sponsoring the production with Cleveland Land Services (CLS). The two companies have previously sponsored Yarm School performances.
Huw Williams, headmaster at Yarm School, said: "It's once again time for Yarm School's talented students to bring an ambitious and well-loved musical to the Princess Alexandra Auditorium stage.
"We are delighted and very grateful to once again have the support of Active Chartered Financial Planners and Cleveland Land Services. Their sponsorship offers the students and production team the opportunity to create a first-class show, ensuring the audience has a fantastic experience from start to finish.
"Karl has supported Yarm School for many years and is passionate about giving young people opportunities to realise their potential. Both Active and CLS make significant contributions to the Teesside community, and we are delighted to have such a positive relationship with them."
Karl Pemberton, managing director at Active, said: "We are delighted to be back in the Princess Alexandra Auditorium for another ambitious Yarm School musical production. Beauty and the Beast is a classic and I'm certain they'll be as brilliant as the professionals.
"At Active, we are committed to the future of Teesside, and that includes the development of the region's young people. We have a great relationship with Huw and the team, and it's always exciting when show time comes around. If any of the students have a flair for the financial at any time of the year, we'd be more than happy to chat to them and see how we can help.
"We can't wait until June, when we'll take our seats in the stunning Princess Alexandra Auditorium and enjoy the performance."
Tickets for Yarm School's production of Beauty and the Beast, which runs from 29 June to 2 July, are available here