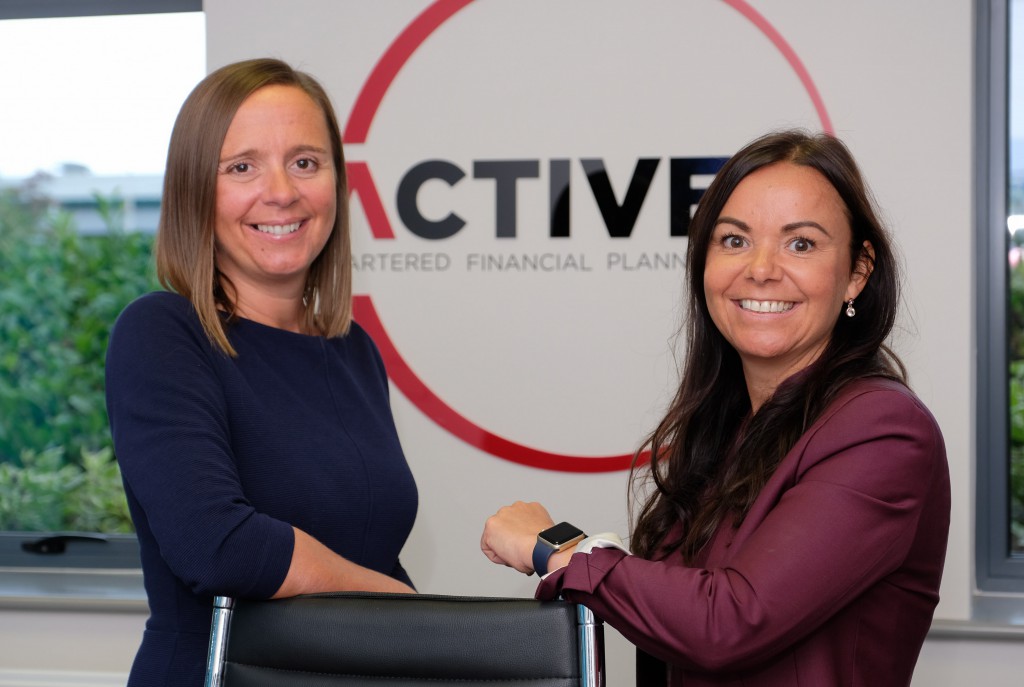 The financial sector is notoriously male-dominated. Although customer service and mortgage adviser roles tend to be filled by women, the more high-level and specialised roles still tend to go to men.
One North East based firm that is working to address this imbalance is Active Chartered Financial Planners. Outside of its leadership team, Active currently has 10 Independent Financial Advisers (IFAs) in its team, with almost a quarter of whom are women.
Two of these advisers are Claire Davison and Liza Pontone, both of whom began their careers more than 20 years ago at Yorkshire Bank. The opportunity arose to progress and obtain additional qualifications, something they both jumped at.
"The bank was very female-dominated," recalls Claire, "so when promotion opportunities came up, it was a great chance for us to get noticed and go for it."
Liza adds, "We came from a very female-heavy environment. The career of an IFA is not usually pitched towards women, but when the Bank needed people to train up, we saw an opportunity to make a real difference".
Claire says, "We both knew Karl Pemberton (Managing Director & IoD Chartered Fellow) and Paul Gibson (Director and Chartered Financial Planner – Fellow) from our time at Yorkshire Bank, so in 2013 when they contacted us and told us of their plans for Active, we were excited by the prospect".
"Claire and I were the first female IFAs to join the firm" says Liza "Karl was keen to recruit some female advisers, as there are some clients who ask specifically for a woman to look after their needs. For example, if a lady has been involved in a particularly messy divorce, she may feel more comfortable talking to a female colleague rather than a male."
Liza feels strongly that, although there are few female IFAs, there is no shortage of professional women in the North East, even in the finance sector.
"I attend a few mixed gender networking groups, and they are starting to level out in terms of a male-female split. It used to be about 80% men and 20% women but now I'd say it's closer to 60/40. There are lots of female accountants, lawyers, and particularly mortgage advisers, so as a professional, I don't feel outnumbered, but in our industry, I often do."
Claire agrees, "When you attend an IFA conference or event, there are almost no women. It is mostly older men."
Both ladies feel that part of the reason there are so few female IFAs is because of the amount of study it takes to get qualified.
Liza says, "The FCA is constantly raising the bar and quite reasonably expecting us to maintain our knowledge to ensure the customer is protected. This takes a lot of time out of both your working day and your personal time. I had very young children when I first started studying, and it was very difficult to manage looking after the children with all the work I needed to do."
Claire says, "Once you've got your qualification, you still have work to do. It's ongoing due to the regulatory changes, especially after the financial crisis. You have to dedicate yourself to your training long-term."
Alongside their jobs, Claire and Liza both have families that need their time and attention. Claire and her husband Stuart have two children aged 15 and 13, and Liza, who is a single parent, has three children aged 16, 13 and nine.
"It can be difficult to balance work and life sometimes," says Liza, "but it's good to have a support network and people you can talk to. Working for Active is incredibly flexible. It means I can sometimes work from my home office, get the kids their dinner, and get some work done while they're watching TV.
"I couldn't do the job if I had to work set hours and if the office couldn't be flexible, but they're great. They'll bend over backwards to help us fit everything into our hectic lives."
Claire, who works a four-day week at the Thornaby office, says, "Offices offering flexi-time for working parents make life so much easier. We have the option to buy and sell holidays, or change our hours within reason, to help us out if the kids are sick or there's a special event to attend. It makes me feel more loyal to the company, as I know they respect me as a person."
Both Claire and Liza feel that their office in particular is a supportive environment for female professionals, and are confident that in the future, there will be more female Advisers.
"There are lots of professional women networking groups in the North East, so I think ladies are seeing more and more people managing a career and a family, and, that with some flexibility, a full-time job and a family is possible," says Liza.
"Years ago, it was almost a given that if you were a mother, you would go back to work part-time. In fact, Claire and I were both part-time at Yorkshire Bank. Now, businesses are keener to offer a flexible work/life balance, because they know it will help them to attract and retain better employees of any gender."
"We all work together very well," says Claire, "but the female team have a particularly strong bond. We climbed Scafell Pike and did the Great North Run for the Middlesbrough and Teesside Philanthropic Foundation together as a group. The kids and the dogs came with us, and it was a real family event. You find your social life and your work life tends to revolve around your family, so it's great to have that support with your colleagues."
The flexible working approach was cited as one of the reasons the company was awarded Gold status from Investors in People (for the second time) last year, and in January was also named the North East's Employer of the Year in the Federation of Small Businesses Awards.
Since joining Active, both Liza and Claire have progressed well in their roles and built up very successful client portfolios.  In addition to advising and due to her extensive knowledge, Claire offers invaluable support to Active's other advisers by researching the products available and writing detailed client reports.  Liza is currently studying hard to gain Fellowship status (from the Chartered Insurance Institute), having passed no less than 7 exams in the last year and with only 1 exam remaining.
Liza says "My knowledge has grown extensively which has assisted vastly in interviews and handling complicated cases in the IFA world".
This is a Financial Promotion.  The content of this blog is for information only and must not be considered as financial advice.  We always recommend that you seek independent financial advice before making any financial decisions.
Call your adviser at Active Financial Planners today on 01642 765957 or visit the website
Follow Active Financial Planners on Twitter, Facebook & LinkedIn
Learn more about Claire Davison & Liza Pontone here